At St. Mary's Malvern East we are all responsible for being a welcoming, inclusive Catholic community. Through respectful partnerships, we strive for excellence and take action in a contemporary world.
Our school is located behind St Mary's Church on Manning Road, and has a current enrolment of 190 students, from Foundation to Year Six. In 2018, we celebrated our Centenary, and as such, have a long and proud history of providing excellence in primary school education. 
St Mary's is recognised as a place of quality teaching and learning, with a strong community spirit. The school is supported by our dedicated Parish Priest, Monsignor Stuart Hall and enriched by a committed parent body. The students at St Mary's have a strong connectedness to their school and there is a high level of engagement and achievement.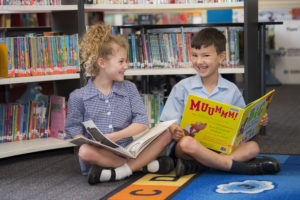 Book a Tour
At St Marys, every day is an Open Day and we invite you to book a tour with our Principal,  Mr Shane Tobin. Click here to book in a suitable date and time.
Official Open Days
We hold two Open Days in Term One, usually at the end of February and then again in mid-March. We also provide host two Open Days early in Term Two, usually at the end of April and early May.  Open Days for 2022 will be added as soon as confirmed. You can also view our virtual tour by clicking here.  
Enrolment Dates
Enrolment applications are accepted at any time, however the usual timeframe is from February to May, during the year, prior to your child starting in Foundation. Towards the end of April, families will be invited to the school, with their child, for an interview with either the Principal or Deputy Principal. First round offers are then sent to families at the beginning of May, and subsequent rounds are offered when and if applicable. Please see our Enrolment Policy available on our website for more information.
Transition Program
During Term Three, the St Mary's staff, including Foundation teachers, visit enrolled children at their Kindergartens, to commence the transition process. Early in Term Four, the children are invited to participate in four transition sessions onsite, focusing on a variety of games and activities based on English, Mathematics, STEM and Physical Education. In late November, a Parent Information Night is held, which often includes a guest speaker and focuses on making the transition to school a successful, positive experience for both students and parents.
Our School Selection Checklist will help you choose the right school
There are so many schools to choose from, and you want the best for your kids.  That's why we've created a School Selection Checklist; to help you choose the best school for your family.  Simply complete this form and the checklist will be on its way to your inbox.
Download Our School Selection Checklist
We welcome you to enquire at any time and would value the opportunity to show you our wonderful school in action.
St Mary's Enrolment Application Form
Holy Eucharist and St. Mary's Catholic Parish Malvern East
Parish Priest: Monsignor Stuart Hall
St. Mary's Church – 91 Manning Rd, Malvern East
Holy Eucharist Church – 1241 Dandenong Rd, Malvern East
Parish Office & Presbytery – 91 Manning Rd, Malvern East, 3145
Tel:  03 9571 2407
Fax: 03 9571 5094
Email: malverneast@cam.org.au
Parish School Enrolment Policy
Parish Boundary Map