The land on which St Mary's now stands originally belonged to the Emo Estate. Blessed by Archbishop Carr as a station church for the parish of St Stephen's Oakleigh, it was purchased last century for 542 pounds.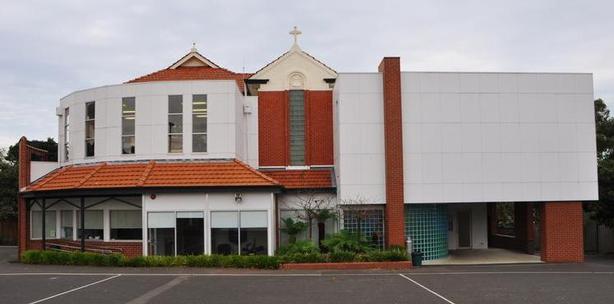 St Mary's East Malvern was formally constituted as a parish in February 1915. In 1917, disaster struck when the original church was destroyed by fire. Shortly after World War 1, fund-raising commenced and ambitious plans were drawn up to build the Gothic Church that has become a landmark in the parish. It was to be a Memorial Church dedicated to Australia's noble dead who fell in the Great War.
On Easter Sunday, 4th April 1920, Archbishop Mannix blessed and laid the foundation stone for the new church, designated as St Mary the Immaculate Conception. Three years later, on 18th October 1923, St Mary's Church was opened.
Life began for St Mary's School when Archbishop Mannix laid the foundation stone on 30th June 1918. Prior to this, classes were conducted in the rear of the church. The school was enlarged considerably in 1930. For many years, the Sisters of the Brigidine Order Convent from Malvern conducted the school on behalf of the parish.  In 1976, the Sisters withdrew and the first lay principal was appointed.
St Mary's School continues to grow and develop today in order to meet the needs of the parish community.
Year 5 and 6 Inquire into St. Mary's History
In 2016, our Year 5 and 6 students researched significant figures in the history of the St Mary's community. These significant figures each represent one of our house colours. The Year 5 and 6 students have presented their findings below to the school community. As a school we now use these names when talking about our House Teams, bringing more meaning to our house system.
HARRINGTON – BLUE
Miss Margaret Harrington was the first lay principal of St. Mary's.
She was born in the 1890's.
She was only paid 10 shillings a week, that is the same as 1 dollar.
She was 23 when she became Principal.
She taught the first 25 students of St Mary's
EGAN – GREEN
Fr John Egan was born in the 1800's
He passed away on Thursday August 9th.
Fr John Egan was the first Parish Priest of St Mary's, although there was a priest before him named Fr Crennin. Fr. Crennin was a priest at two schools.
Fr John Egan loved to dance. Sometimes even, he would dance for people on their birthday! He even once danced on a piano for a lady's birthday.
WURUNDJERI – RED
The Wurundjeri people are the traditional Aboriginal owners of a larger part of the land of inner and outer  Melbourne that includes St. Mary's.
Aborigional people have been with the land for tens and thousands of years.
All the tribes in Australia have different languages to each other.
MANNIX – YELLOW
Archbishop Daniel Mannix lay the foundation stone of the present church and school in 1918
 He was born in March 1864 in Charleville, Cork, Ireland.
 Daniel Mannix died in November 1963 in Melbourne, Victoria and got buried in St Patrick's Cathedral.