St Mary's is a Sun Smart school.
Too much of the sun's UV can cause sunburn, skin and eye damage and skin cancer. UV damage accumulated during childhood and adolescence is strongly associated with an increased risk of skin cancer in later life.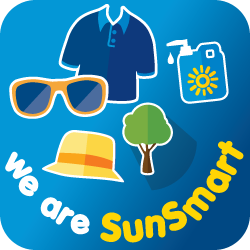 At St. Mary's we:
Encourage the entire school community to use a combination of sun protection measures whenever UV Index levels reach 3 or higher.
Work towards a safe school environment that provides shade for students, staff and the school community at appropriate times.
Assist students to be responsible for their own sun protection.
In 2019 the St Mary's community celebrated our 21st SunSmart year!
Through our ongoing partnership with Cancer Council Victoria, we were selected to take part in an initiative by Cancer Council Australia, filming for a new national 'Impact' website, which showcases the work CCA is doing in cancer prevention, support and research.
We are very proud of the final video, included below, and warmly thank students, parents and staff who took part. We would also like to thank Cancer Council Victoria/Australia for their ongoing support, ensuring St Mary's is a SunSmart school for many years to come.